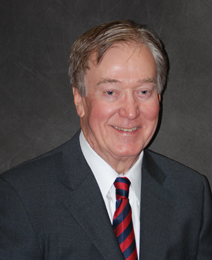 Phone: (201) 319-5736
Fax: (201) 863-2866
E:
Practice Areas
Education
University of Missouri (B.A., 1951)

Fordham University Law School (J.D., 1957)
James P. Dugan
Of Counsel
Mr. Dugan has been associated with the firm since 1994. In his practice of law, Mr. Dugan has achieved expertise in developing strategies to overcome the zoning, permitting, and other problems attendant to complex real estate development projects. He was counsel to a number of such projects, including one of the country's largest, a multi-billion dollar, mixed use development on 300 acres located on the Hudson River waterfront in New Jersey.

Mr. Dugan has litigated cases involving complex commercial and intellectual property issues before the International Trade Commission. He has also successfully managed litigation involving alleged oppressed minority shareholder claims involving major national corporations.

Mr. Dugan served in the New Jersey Legislature for eight years and chaired the Senate Judiciary Committee for four years. During his tenure he sponsored or guided into law a number of significant pieces of legislation, including the Casino Control Act, legislation establishing the New Jersey Sports and Exhibition Meadowlands Complex, and major tax reform programs.

He served as the New Jersey Democratic State Chairman and on the Democratic National Committee and the National Democratic Finance Committee. He is Chairman of the Board of Directors of AAA North Jersey.

Mr. Dugan served in Korea and was discharged as a Captain in the U.S. Marine Corps.
Bar Admissions
State of New Jersey(1959)
State of New York (1957)
United States District Court for the District of New Jersey (1959)
United States District Court for the Southern District of New York (1957)
Supreme Court of the United States (1986)
Memberships
American Bar Association
New Jersey Bar Association
Hudson County Bar Association