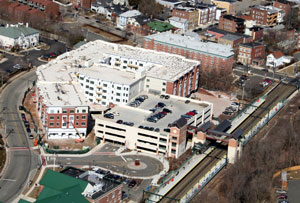 We represent a national residential real estate company, which was designated by the municipality as the Redeveloper for a "Transit Village" redevelopment in a suburban Essex County community. The redevelopment consists of construction of a public garage and a 163 apartment complex immediately adjacent to an NJ Transit commuter rail stop.
> This project required a series of complex real estate transactions in order to assemble the real estate interests which the client needed to proceed, including a land swap between the two governmental entities, a ground lease and a ground sublease. This first round of transactions was followed later by two transactions in which the redeveloper acquired the fee and leasehold interests of the two governmental entities, in order to achieve full simple ownership of the apartment complex.
We represented the redeveloper in connection with the redevelopment agreement and all of the real estate transactions. We also represented the redeveloper on all of the municipal and county site plan and subdivision approvals and with respect to the tax abatement issued by the municipality for the redevelopment.
Contact Us
Waters McPherson McNeill is interested in your comments and questions regarding our services. Please fill out the form below and we will respond as soon as possible. Thank you.

300 Lighting Way
Secaucus, New Jersey 07096