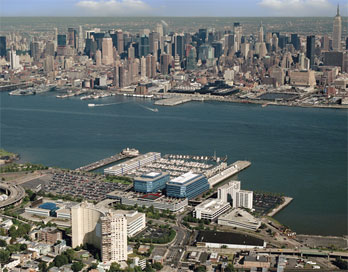 We represented several developers in connection with this mixed use planned development located on the Hudson River waterfront, consisting of approximately 40 upland acres, near the entrance to the Lincoln Tunnel.
Our representation included transactional work on behalf of the master developer in assemblage of the site and the subsequent sale of parcels to two other developers, as well as preparing a reciprocal easement and operating agreement, which provides various easement rights and a cost sharing mechanism for the development.
We also represented these developers in obtaining their respective local land use approvals and New Jersey Department of Environmental Protection Waterfront Development Permits for the office buildings retail space and restaurants, for a residential development on a pier in the Hudson River and for a marina located in the River between two piers. State and local permitting for a large development located so near the Lincoln Tunnel required a sophisticated approach in connection with the traffic issues and a concerted effort with the traffic engineer for the master developer.
Our work included the preparation of condominium registrations with the New Jersey Department of Community Affairs and with the New York Attorney General for the residential condominium on the pier and with the New York Attorney General for the condominium regime for the marina (a "dockominium").

Contact Us
Waters McPherson McNeill is interested in your comments and questions regarding our services. Please fill out the form below and we will respond as soon as possible. Thank you.

300 Lighting Way
Secaucus, New Jersey 07096