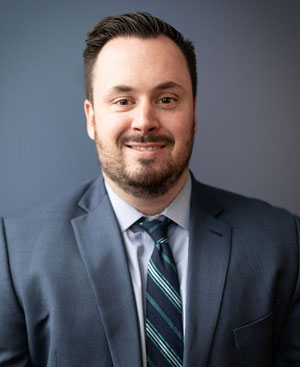 Contact Info
Practice Areas
Education
The College of New Jersey (B.S. 2007)
Seton Hall University School of Law (J.D. 2010)

James M. Spanarkel
Member
Mr. Spanarkel is a partner with firm. His practice primarily focuses on real estate matters, zoning and land use, municipal finance and general business law. He is also the Chair of the Firm's Marketing Committee and presently serves on the Board of Directors of the Rutherford Little League.

His transactional practice focuses on all aspects of commercial and residential real estate acquisition/disposition, financing and leasing (including scattered site single family housing, multi-family development, self-storage facilities, and various other office/commercial properties). Mr. Spanarkel's real estate and transaction practice also includes significant experience in representing non-profit entities in the affordable housing and community development space.

A substantial part of Mr. Spanarkel's practice also focuses on public finance matters. In this capacity, he represents various government entities in the roles of bond counsel, underwriter's counsel, and trustee's counsel on taxable and tax-exempt issues. He has also successfully represented issuers with respect to the defense of IRS municipal bond audit proceedings.

Mr. Spanarkel's practice also includes advising both start-up and established businesses with respect to key issues, including, but not limited to, business entity selection and formation, negotiation and drafting of a wide range of critical documents and agreements, and various intellectual property related matters.

In addition, Mr. Spanarkel has significant experience in all aspects of commercial and residential landlord-tenant practice in New Jersey and regularly represents landlords in a variety of such matters.

Bar Admissions
State of New Jersey (2010)
State of New York (2011)
United States District Court for the District of New Jersey (2010)
United States Court of Appeals for the Third Circuit (2015)


Memberships
American Bar Association
New Jersey State Bar Association
New York Bar Association
National Association of Bond Lawyers

Contact Us
Waters McPherson McNeill is interested in your comments and questions regarding our services. Please fill out the form below and we will respond as soon as possible. Thank you.
300 Lighting Way
Secaucus, New Jersey 07096