Of Counsel Emeritus John Wefing Speaks to a Packed House in Jersey City
5/14/2014
On April 1, 2014, our firm's Counsel, John Wefing, spoke at St. Peter's University -- the most well attended Continuing Legal Education program ever at St. Peter's. John also is a Distinguished Professor of New Jersey Law and History at Seton Hall Law School.
Professor Wefing tackled the thorny issue of when a judge should recuse him or herself from a pending case. This issue harks back to our Country's early history when US Supreme Court Chief Justice Marshall did not recuse himself from a matter that he had been involved with while serving as Secretary of State. You may remember the Marbury v. Madison case which upheld the legitimacy of Secretary of State's appointment of a governmental official but ruled that the Supreme Court did not have authority under the Constitution to enforce a remedy sought by the official. At a more local level, Wefing told the audience about the infamous mayoralty of Frank Hague, during which many judges, with close connections to the Mayor, presided over proceedings charging Hague and his supporters with political corruption.
Wefing's lecture was particularly timely given US Supreme Court Justice Scalia's decision not to recuse himself in a case dealing with Vice President Cheney, and the failure of a state supreme court justice to recuse himself in a recent case where the president of a corporation involved in that case had provided $3MM dollars to support the justice's campaign for the judicial position.
STATE BAR CONVENTION ALERT: On May 15th, Wefing will address the Bar Convention speaking on "Mayor Frank Hague, Chief Justice Arthur T. Vanderbilt, Governor Alfred Driscoll and the New Jersey Constitution of 1947". That presentation will bring to life the legal and political battle and herculean efforts required to revamp the outmoded constitution of 1844 Constitution. It was only when Governor Driscoll ultimately compromised with Mayor Hague that the new modern constitution was adopted.
Wefing makes it very entertaining in addition to being scholarly. Stop by and say hello to our colleague, Professor Wefing, if you're there. You can contact him at jbw@lawwmm.com.
Posted By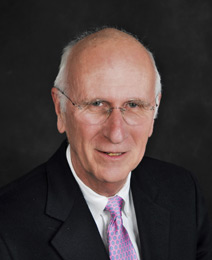 John B. Wefing
News & Blog Topics
Contact Us
Waters McPherson McNeill is interested in your comments and questions regarding our services. Please fill out the form below and we will respond as soon as possible. Thank you.

300 Lighting Way
Secaucus, New Jersey 07096