WMM awards 2016 David Waters Scholarship in honor of former partner
1/24/2017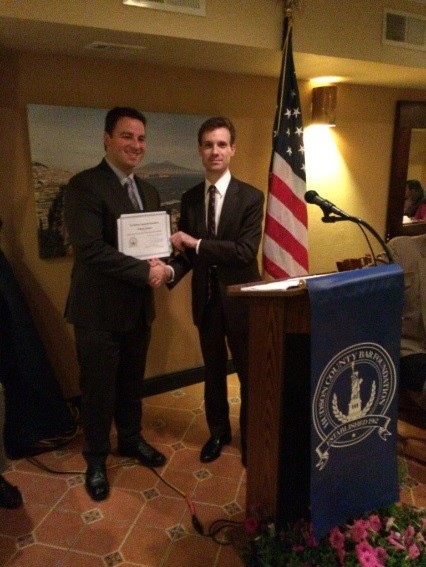 Partner Eric McCullough was on hand at the Hudson County Bar Foundation Annual Scholarship Award Dinner to present the David Waters Scholarship. Eric is pictured on the right presenting the David Waters Scholarship to this year's recipient. WMM presents the David Waters Scholarship each year to a deserving law student chosen by the Bar Foundation in honor of its former partner the late David Waters. WMM congratulates this year's scholarship recipient William J. Grapstul a third year student at Rutgers and looks forward to continuing to support the Bar Foundation, legal education and honoring the memory of David Waters with the awarding of the David Waters scholarship.
Questions or comments: contact Susan Gieser (201) 319-5750 or e-mail at sgieser@lawwmm.com.
Posted By
News & Blog Topics
Contact Us
Waters McPherson McNeill is interested in your comments and questions regarding our services. Please fill out the form below and we will respond as soon as possible. Thank you.

300 Lighting Way
Secaucus, New Jersey 07096